Multi-Site Accounts Licensing in TallyPrime Developer
A multi-site account is more than one TallyPrime Developer Silver or Gold licenses activated on different machines or locations under a single account comprising of different serial numbers.
Each site activated in such an environment is associated with the account id created by the user. Multiple sites can be activated under the same Account ID.
Each site has one Site Admin ID, the Site Administrator has the rights to perform all the licensing activities for the given site.
Activating Multiple Sites
Activating TallyPrime Developer License – Subsequent Sites
To activate the second or subsequent licenses at different locations, each location is treated as a site under the same account. After successful installation, the license has to be activated.
When the same Account ID is provided in the activation screen, then the User Resolution screen is displayed as shown below: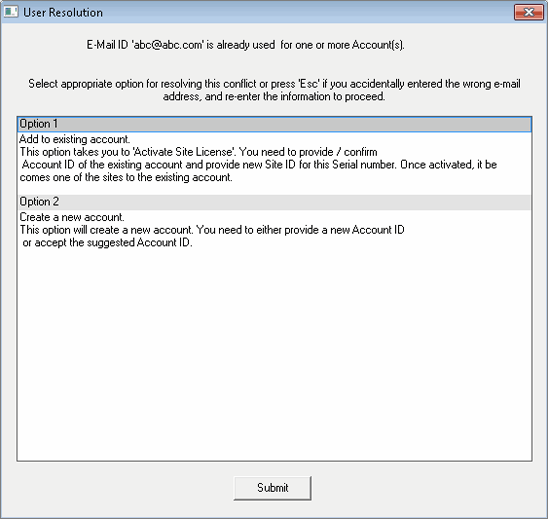 Click Option 1 to add the serial number to the existing account.
The Activate Site License screen is displayed as shown below: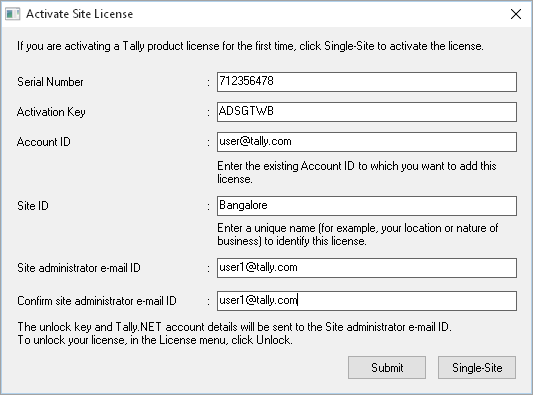 Enter the required details.
Click Submit.
The license serial number provided is activated as a new site under the existing Account.
Click Option 2 to add the serial number to a new account.
Note: Select Option 2 when you want to retain the existing Account ID for the Account Administration and the License Serial Number to be activated under the new Account ID.
The Support Activation form appears as shown below:
Enter the account ID.
Click Submit.
 A new account is created and the License Serial Number provided in the Activation Form will be included in the new account ID.
Add to Favourites