Add to Favourites
The option Configure Existing License must be used in a LAN environment to configure an existing license to your TallyPrime Developer from the Tally Gateway Server.
To configure the existing license
Right-click TallyPrimeDeveloper, and select Run as Administrator.
Go to License > Configure Existing License. The Configure Existing License screen appears as shown below: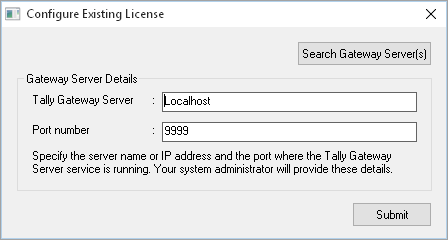 Enter the Tally Gateway Server name and Port number. Alternatively, click Search Gateway Server(s) to list the compatible gateway servers.
Click Submit to configure the license.
Go to Help >About to view the details of the product, license, version, and subscription.