TallyHelp Videos
Welcome to TallyHelp Videos, which is a one-stop repository to understand TallyPrime features better and in the simplest manner. Get access to all the how-to videos for TallyPrime, TallyPrime Server, and Tally Definition Language (TDL).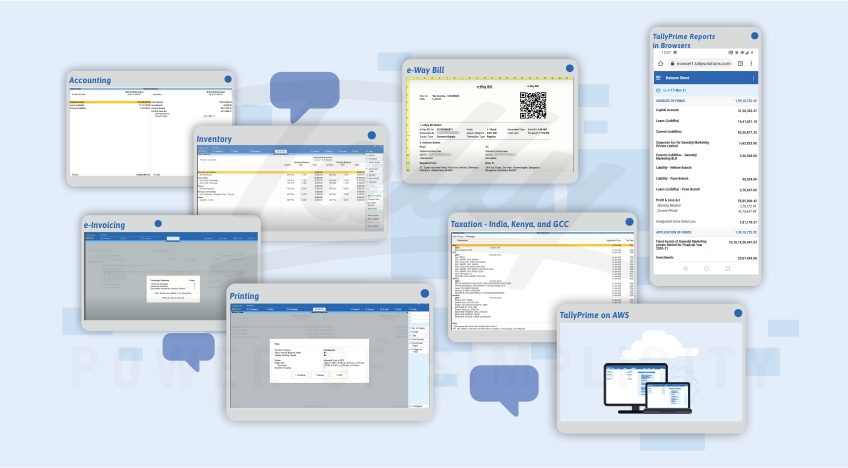 TallyHelp videos are here to guide you throughout your journey with your favorite accounting software.
Kickstart your journey with TallyPrime and TallyPrime Server seamlessly.
Resolve your queries on various functionalities right from licensing and startup to transactions, taxation & compliance, reports, and many more features of Tally products.
Gain insights on various features and experience the simplicity through demonstration.
Enhance your knowledge about Tally products to another level.
TallyPrime How-to Videos
TallyPrime How-to Videos are classified into sub-sections that would make it easier for you to navigate to the respective module or feature that you want to learn. 
Experience a seamless start to your journey with TallyPrime using these videos.
The licensing videos are also here to help you if you ever encounter any difficulty during the process of licensing in TallyPrime. These videos will help you migrate from Tally.ERP 9 to TallyPrime seamlessly and also configure your license.
Moreover, TallyPrime has a range of facilities using which you can speed up the data entry process in the product. The videos will guide you on how to leverage such functional advantages of TallyPrime and improve your efficiency at work.   
With these videos, you will know how to use accounting and inventory reports in TallyPrime. 
Moreover, the videos will guide you to leverage the facility of browsing reports on your small or big screen devices.
There is also an in-depth coverage of the Save View feature that will help you experience the all-new way of viewing reports in TallyPrime. 
Understand how easy it is for you to send payment to your beneficiaries using TallyPrime. 
A range of videos to help you use TallyPrime on AWS and manage your business from anywhere. 
Learn the various aspects of inventory that will help you manage your stock items and groups in TallyPrime.
Right from migrating data from the older Tally releases to TallyPrime and configuring data to taking backup, these videos will make your back-office job simpler.
Be it taxation-related activities in India or GCC, you have a video that guides you in managing your compliance activities. You can also watch e-Invoice and e-Way Bill videos to know the benefits of the features.
While the videos will address your pointed queries, you will also get the idea of the end-to-end functionality of various features, thereby making your journey seamless with the product.