Add to Favourites
You have to update your TallyPrime Developer to avail the latest license updates, new features, and so on.
To update your TallyPrime Developer License
Right-click TallyPrime Developer.
Select Run as Administrator.
Go to License > Update.
Enter the Administrator e-mail ID and Tally.NET password in the Update License screen, as shown below: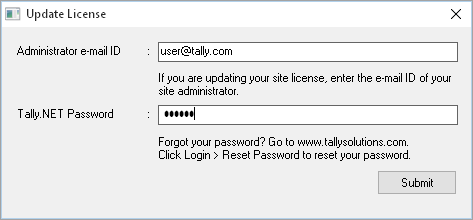 Click Submit to update your license. A confirmation message appears once your license is updated.
If you are updating your site license, you can enter site administrator e-mail ID and password.