Add to Favourites
Track Your Inventory | Stock Summary
Stock Summary is a statement of the real-time stock-in-hand on a particular day. It allows you to view profits made from stock sales according to each single stock item or for each group. It is one of the primary inventory statements that gets updated in real-time as and when you record transactions. If you have maintained the inventory in groups, transferred stock for various business needs, sold or purchased stock items, TallyPrime helps you view all of them using the Stock Summary report. Monitoring your profit margins regularly when you do business with your vendors and maintaining your future transactions becomes much easier when you have the value of your profit for each stock item against the sale and purchase price. 
Know your stock details: Stock Summary provides information on stock items such as quantity, rate, and opening and closing value of the stock items. You can view the entire stock flow, including goods inward, goods outward, opening stock, and closing stock. Whether it is about stock reordering or stock ageing, you can get the right information about the inventory in your business using this report. You can understand the movement of a particular item day-on-day, month-wise or for any selected period.
Understand sales and purchases of stock: You can view details of the available stock at different locations and make a purchase or sales decision accordingly. A clear view of the purchase and sales order outstanding helps you further decide on the next steps to improve the cash flow in your business.
Know stock-wise profit: When you make business transactions with your vendors, you will need to keep a tab on your profit margins regularly. Understanding the profit value against the sales and purchase value of the items help in maintaining your future transactions. Using the Stock Summary report, you can view the profit made from sales of stock items, individually or per group.
Summarising what you have in stock in terms of quantity and value, this report helps you make vital inventory-related decisions very quickly. With a detailed overview of the stock flow, including the number of goods entering, the number of goods left, and the number of goods closing, this Stock Summary report provides you with accurate information about your inventory regarding stock replenishment or inventory ageing. Similar to all other reports in TallyPrime, you can drill-down from the Stock Summary report to view various inventory information as per your business needs.
You can view this report in the browser.
Whether you maintain your stock individually or in groups, you will be able to know the opening and closing balance of your stock on any given day. In the Stock Summary report, you can view the stock balance and profits made from sales of your stock.
In this section
View Stock Item details through Stock Summary
View Stock Item details through Monthly Summary
View Stock Item details through Stock Summary

Stock Summary report helps you to know how much stock quantity you currently own, your pending sales as well as purchase orders and how they will affect your stocks in-hand, and your existing stock for supplying your customers. The value of the closing stock shown in Stock Summary is also displayed in the Profit and Loss report. If you do not see the same value in the Profit and Loss report, ensure that you have set the Integrate Accounts with Inventory to Yes from the F11 (Features).

Press Alt+G (Go To) > type or select Stock Summary and press Enter.
Alternatively, Gateway of Tally > Stock Summary.
By default, the Stock Summary report displays the item-wise summary of your inventory along with the list of stock items with their corresponding closing balance details.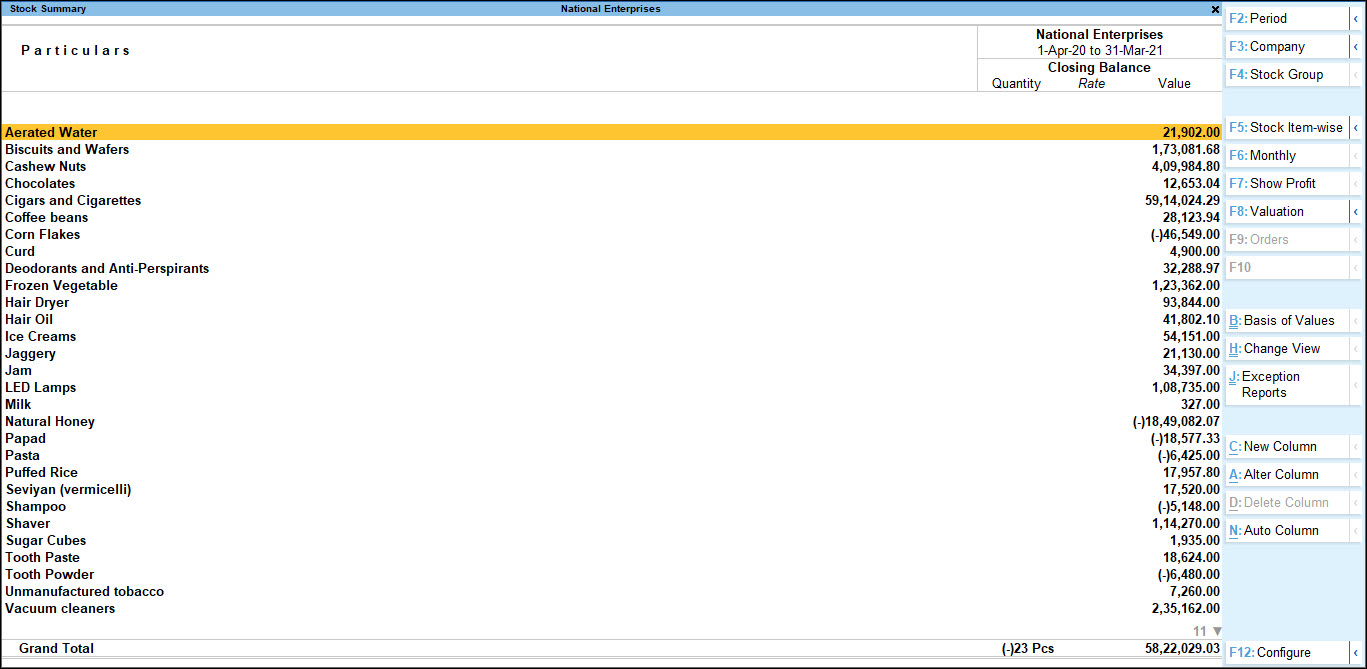 After you generate the Stock Summary report, you can drill down to access the details of your stock group and stock item from Stock Group Summary and Stock Item Monthly Summary, respectively. You can further drill down to access the last level of data in the Stock Item Vouchers.
From the Stock Summary Report you can choose to view items from other group, stock item-wise and profit earned from the stock.
F4 (Stock Group): When you have stock items in groups, your can view details of any selected stock group by pressing F4 (Stock Group). After selecting a stock group, you can view the closing balance of the items under that stock group.
F5 (Stock Item-wise): When you maintain stock items in different groups, you can toggle between the item-wise and group-wise view of the summary report by pressing F5 (Stock Item-wise). This option gives you the freedom to view your report according to your choice and convenience. You can also do the same by pressing Ctrl+H (Change View).
F7 (Show Profit): Whether you have grouped your stock items or maintained them individually, it becomes tedious to track the profit manually. You can press F7 (Show Profit) to see the profit earned from your outward stock, including the consumptions made. This statement is used to reconcile the closing balance because the closing value is derived by taking the consumption values instead of the outward goods at sales value. You can use F7 (Hide Profit) to hide the profit-related details.

You can view the Stock Summary Report and make changes in the display of the report as per your business need.
Ctrl+B (Basis of Values): You can choose to change the Scale Factor from Default to Hundreds or Thousands. The Stock Valuation Method can also be changed as per your business need. You can also select the Godown type and Stock Position to view the report.
Ctrl+H (Change View): You can view Related Reports like Monthly Summary, Movement Analysis and Ageing Analysis, apart from the default report.
Ctrl+J (Exception Reports): You can view the Negative Stock Items.
To know further about reports and their features in TallyPrime, go to Working with Reports in TallyPrime.
F12 (Configure)
Press F12 (Configure) to configure your report as per your business needs.
Opening Balance

: Displays the Opening Balance – quantities, rates, and values – of the stock items or stock groups.
Show Goods Inwards: Displays the inward quantities, rate, and corresponding values.
Show Goods Outwards: Displays the outward quantities, rates, and corresponding values.
Show Gross Value for Outwards: The gross value is inclusive of the value of tax/any other allowed ledgers that were chosen during the sales of the item.
Show Consumption and Gross Profits: The gross profit is calculated on the gross value, which is inclusive of the values of the tax/allowed ledger under the accounting allocation screen of the stock item.
Show Gross Profit on Gross Value: The gross profit and percentage values are calculated on the gross value.
To know more about F12 (Configure), click here.
| | |
| --- | --- |
| Option | Description |
| Show Quantity | Displays the quantity of the stock items or stock groups. |
| Show Alternate Units | Displays the quantity of stock along with alternate units. |
| Show Rate | Displays the rate for each stock item or stock group. |
| Show Value | Displays the value of the stock per item or group. |
| Show Closing Balance | Displays the Closing Balance – quantities, rates, and values – of the stock items or stock groups. |
| Show Stock Items with zero Quantity or Balance | The Stock Summary report by default excludes stock items with zero closing balance in terms or quantity or amount. Therefore, you will find this configuration set to No. If you wish to see such stock groups listed in the report, you can set this option to Yes. |
| Exclude details with no transactions | The Stock Summary report by default excludes stock items not used in transactions. Therefore you will find this configuration set to Yes. If you wish to see such stock items or groups that contain such stock items along with other stock, you can set this option to No. |
| Format of Report | Displays the report in detailed or condensed format. |
| Expand all levels in Detailed format | Displays the last or tail unit used to create the compound unit for the stock items. |
| Display name for Stock Items | Displays the alias name, part no., stock name or different combinations of these. |
| Display name for Stock Groups | Displays the alias name, ledger name, or a combinations of these in any order. |
| Show Base Currency | Displays the values in any factor of numbers – such as in lakhs, in crores, in thousandths, and so on. |
| Sorting Method | Sorts the details of the report in different orders – ascending, descending, and so on. |
| Sort by | Based on the sorting method select, you can sort the details by different data parameters. |