Add to Favourites
Form RG 23D details the excise purchases and the corresponding sales transactions.
To view Form RG 23D
Gateway of Tally > Display More Reports > Statutory Reports > Central Excise Reports > Importer > Form RG 23D.
Alternatively, press Alt+G (Go To) > type or select RG 23D All Items > and press Enter.
Form RG 23 D report can be viewed for All Items, One Item or Sales Bill Wise.
To generate Form RG 23 D for all stock items
Select the option All Items in the Form RG 23D menu.
Select the excise unit from the List of Excise Units in the Name of Excise Unit option.
To generate Form RG 23D for one stock item
Select the option One Item.
Invoice/Bill of Entry Number with Date

:

It displays the supplier invoice number and date entered in the excise purchase invoice
RG 23D No.: It displays the RG 23D number. This number represents a  particular transaction in the relevant page of RG 23 D Register
Name and Address of Manufacturer/ Importer including Central Excise Regn. No./ Importer Exporter Code/Range/ Division/ Commissionerate: It displays the details of Manufacturer/ Importer entered in the Party Details screen of excise purchase invoice
Quantity: It displays the quantity of stock items purchased
Rate: It displays the rate at which the stock item was purchased
Assessable Value: It displays the assessable value entered in the Assessable Value field of Excise Details screen of excise purchase invoice
Countervailing Duty (CVD): It displays the countervailing duty  calculated on the Assessable Value
Education Cess on CVD: It displays the education cess calculated on CVD
Secondary Education Cess: This column will be left blank
Additional Duty (Imports): It displays the additional duty on imports entered in the Excise Details screen of excise purchase invoice
Excise Duty per Unit: It displays the excise duty paid per unit
Total Excise Duty: It displays the total excise duty paid
This row lists the Excise duty passed on to the corresponding excise sales.
To view the Form RG 23D report in detailed mode, press Alt+F5 (Detailed).
Press Ctrl+P (Print Current) from Form RG 23D One Item or All Items report. The Print Report screen appears.
Press C (Configure) for Printer Settings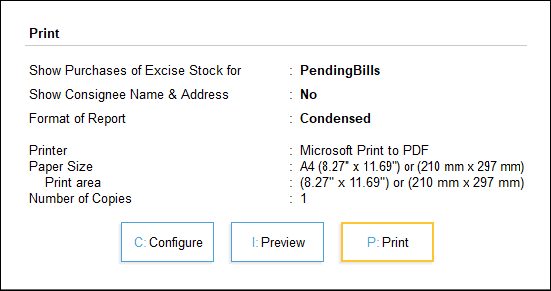 Press Enter to view the print preview of Form RG 23D.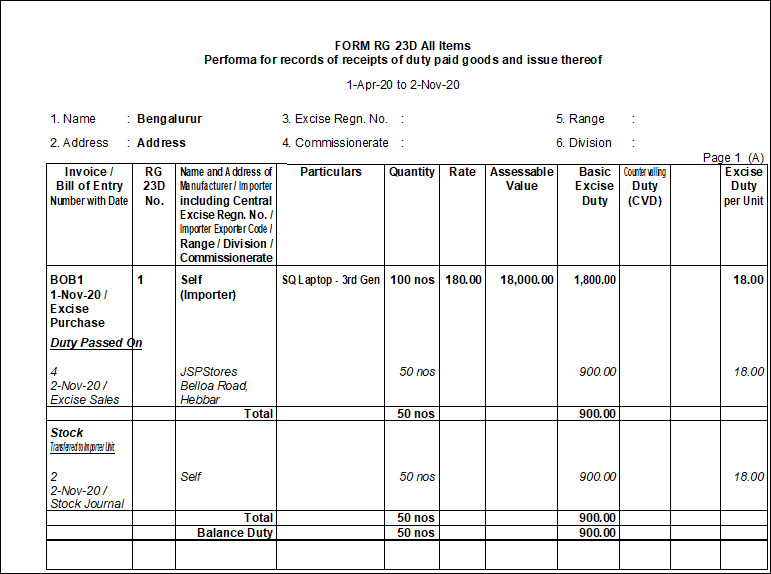 Select Sales Bill Wise to view the Form RG 23D report. This report displays the details of sales transactions for the selected period. In the Select Excise Unit screen, select the Excise Unit and tariff classification. In Name of Item option, select the required excise stock item or All Items.
Form RG 23D report appears as shown below: