Form ST3 is a statutory report that displays the ST3 Form in CBEC prescribed format. ST-3 form is used to file half-yearly service tax returns to the commissionerate of service tax.
The Form ST3 report in TallyPrime helps you to generate accurate returns to be filed.
To generate Form ST3
Gateway of Tally > Display More Reports > Service Tax Reports > Form ST3.

Alternatively, press Alt+G (Go To) > type or select Service Tax Reports > Form ST3 > and press Enter.

Press Alt+F5 (Condensed).
The Form ST3 report appears as below: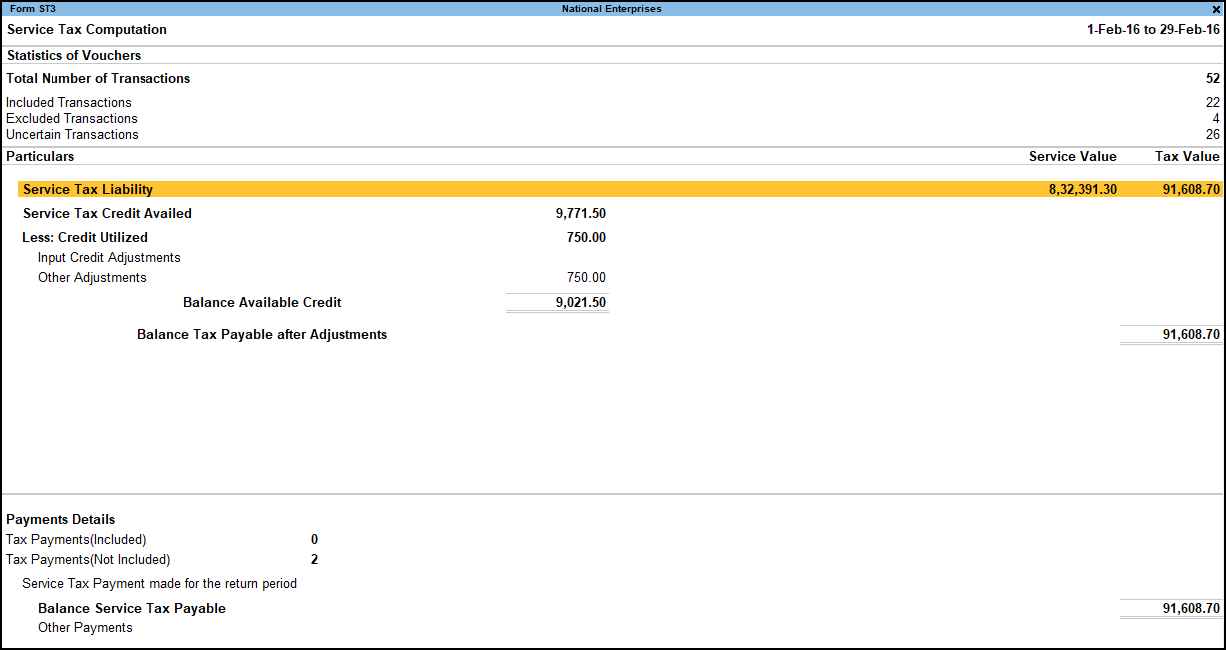 The Form ST3  report has three sections:
All transactions, whether recorded correctly, incorrectly, or inadequately will be captured and categorized in the Form ST3  report. For example,
Service Adjustments during the period
Services Rendered during the period
Services Received during the period
Advance Receipts during the period
These are transactions that do not carry the service tax details that are required to generate Form ST3, and hence will be excluded while generating the form. Transactions that will be considered as excluded for generating Form ST3 are listed below:
All entries where service tax is not applied
Entries recorded using any of the following voucher types:
Payment
Contra
Inventory Vouchers
Sales Order
Purchase Order
Debit Note (recorded for purchases with no service tax implications)
Credit Note (entries with no service tax implications)
Vouchers marked as Optional
Payroll Vouchers
These are transactions that do not fulfill the criteria of the Included and Excluded categories. A voucher will be listed as Uncertain  when there is insufficient information entered in:
The computation of service tax using the transactions that have been included, the breakup of liability, service tax availed, service tax adjustments and the tax payable are displayed here.
This will contain the statistics of all service tax payments (deemed or actual) that exist in the data till date. This will not contain any of the payment entries that are not related to the current period. Any payment entries other that service tax payment entry will not appear here.
The section will display the payments against two fields:
Included Transactions
Excluded Transactions
Printing, Exporting and Validating Form ST-3 Report
Add to Favourites