Operations in Dictionary Manager
The basic operations that can be performed in Dictionary Manager are explained in this topic.
On this page:
Translating Strings in Dictionary Manager
In the working dictionary, the strings for translation are displayed in the column English . The translator can translate any string for translation in the column for the translation.
The columns appear as shown below: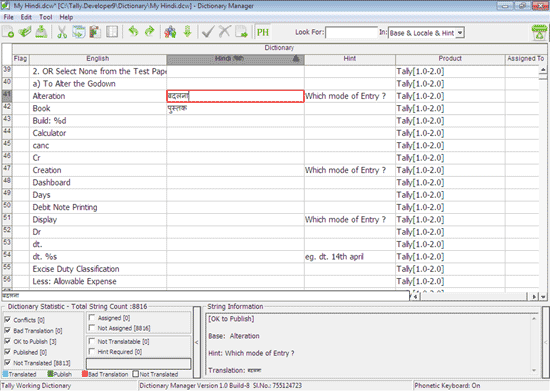 Importing Strings in Dictionary Manager
After the translation process, the translated strings must be imported from the respective source dictionary to the main working dictionary.
Steps to import the strings are:
Open Working Dictionary
Go to Tool > Import .

The user will have the following options for importing the strings:

All – Imports all the strings including non translated strings.
Translated strings – Imports only the translated strings.
Only Translation – Only the translation is imported, and no new strings will be imported.
Trust Source – Retains the flag settings like publish, not translatable, and so on from the source dictionary. Otherwise the flag settings from the source dictionary are ignored.

In the Import screen, select .dcw in the Source Dictionary field, and click Translated String .

Click Import to import the strings. On successful import, a dialog box appears confirming the same.
Local Language Name Mismatch
If there is a conflict in the native language name, the Import screen displays a dialog box, as shown below: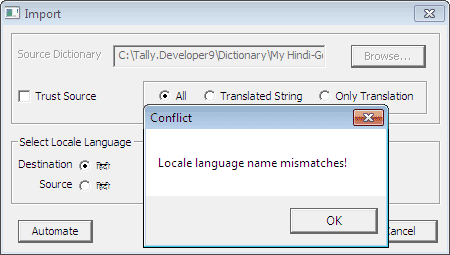 To continue, click OK . Select the native language name from the options provided, and click Import .
Filtering Strings in Dictionary Manager
The Dictionary Statistic enables filtering of strings based on their status as:
In conflicts
Published
Assigned
Not Assigned
Not Translated
Marked as BadTranslation, Published, Not translatable and Hint required
To filter strings, check the required keywords in the Dictionary Statistic section, and Dictionary Manager will display all strings that meet the required criteria.
 Note:  If the selected keyboard layout is other than English, then Right ALT+ K key combination will not work to select the Phonetic keyboard support. To activate Phonetic keyboard, move the focus to any other column.
Searching for Strings in Dictionary Manager
To search for a particular string in working dictionary
Enter the string to be searched in the Look For field, or go to Edit > Look For .
Select appropriate option from the In drop down box.
The search results will be displayed on the Dictionary Manager screen.
Deleting Strings from Dictionary Manager
When only the selected strings from the base dictionary are to be translated, the other rows can be removed from the working dictionary file.
To delete rows that are not required
Select the rows to be deleted.
Go to Edit > Delete Rows .
All deleted rows are transferred into the Recycle Bin.
To restore deleted rows
Go to Edit > Recycle Bin .
Select the row to be restored into the working dictionary.
Go to Edit > Recycle Bin > Restore .
Add to Favourites