How will Ledger Balances be Affected with Regard to Post-Dated Cheque (PDC)?
Scenario
Purchase made from SLV Agencies on 31st Jan 2015. Value of purchase Rs. 1,84,800/-. Three PDC has been issued to party (SLV Agencies) on 05th Feb 2015.
1st PDC – 15th Feb 2015
2nd PDC – 10th Mar 2015
3rd ODC – 25th Mar 2015
Solution
While recording entries of payments and receipts, you can opt to view the party's current balance, and the balance after including the post-dated cheque(s).
The current ledger balance shows as 1,84,800.00 Cr.

By enabling Show Balances as on Voucher Date in F12 : Configuration :

Now balances of the ledger shows considering PDC issued as on Voucher Date.

By enabling Show Ledger Final Balances shows balances of whole financial year considering all PDCs.
Note : Cursor goes to this option only if 'Show Balances as on Voucher Date' is disabled.

Here balance shows zero because the bill has cleared against PDCs as shown below:

Ledger Balance considering PDCs: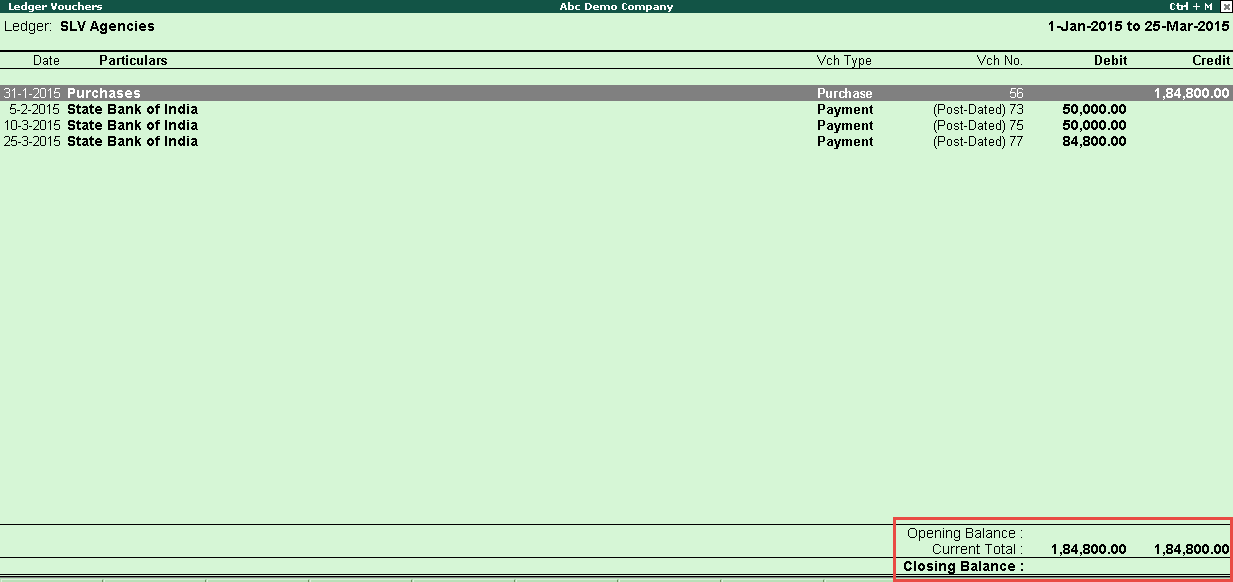 See Also