Provide Bank Details in Employee Master
Bank details for an employee is used for Statutory and Payroll requirements. Additionally, you can provide the employee bank details to make salary payments to the employee.
When you are creating an employee ledger, enable Provide bank details . Refer to Creating Employees (Payroll) .
The Bank Details screen appears.
1. Under the For Statutory & Payroll Reports section, provide the A/c no., IFS code , Bank name , and Branch details.
If you enter and invalid IFS code, the following warning message appears: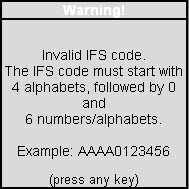 2. Under the Bank details for section
● Select the Transaction type (for example, e-Fund Transfer )
● Provide the A/c no., IFS code , and Bank name .
You can enable Show favoring name and Allow multiple beneficiary details from F12: Configure .
Allowing multiple beneficiaries enables you add more than one beneficiaries and distinguish one from the other through the Ref. ID field. As you add more than one beneficiary, the Set as default? option appears for the beneficiaries added. This option appears for all beneficiaries that you keep adding until you enable Set as default? for one of the beneficiaries added.
The completed Bank details for screen looks as follows: