Send Payment Instructions to Bank
Using the e-Payments capability of Tally.ERP 9, registered users can send payments instructions directly to the bank.
Prerequisites: For seamless transfer of funds to the party from your DBS account, you need to:
● Log in to the company using your Tally.NET ID .
1. Go to Gateway of Tally > Banking > e-Payments .
2. Select column relevant to DBS in Ready for sending to bank , as shown below :
Note: The transactions under this column are recorded using the bank master where DBS has been enabled for e-payments.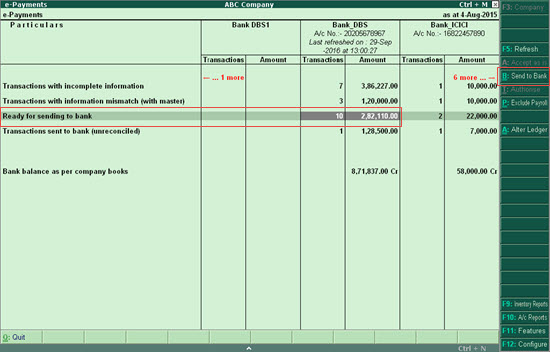 3. Click B: Send to Bank .
Transactions for payroll payments are sent batch-wise based on the instrument date. That means, payroll transactions of the same instrument date are sent in a single batch.
Note : If you are not yet logged in to the company with your Tally.NET ID, the system displays the warning message, You need to login to this company using your Tally.NET ID to perform this action. Tally.NET ID must be registered with the bank.
The Uploading Payment Instructions screen appears as shown below:

4. Press Enter . When the transactions are uploaded, the system displays a success message, as shown below: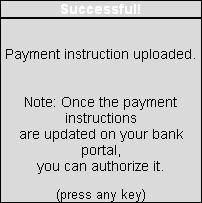 You can also send payment transactions to the bank directly from the voucher. For more information, refer to Sending Transactions to the Bank from Voucher .
All transactions sent to the bank appears under the Transactions sent to bank (unreconciled) category.
5. Drill-down through the DBS bank column under the Transactions sent to bank (reconciled) category to view the status of the transactions sent to DBS .
Note: Refer to the topic to learn about the different statuses of the transactions sent to DBS.
6. Select the transactions marked as Authorisation pending , and click Authorise to open the DBS login page.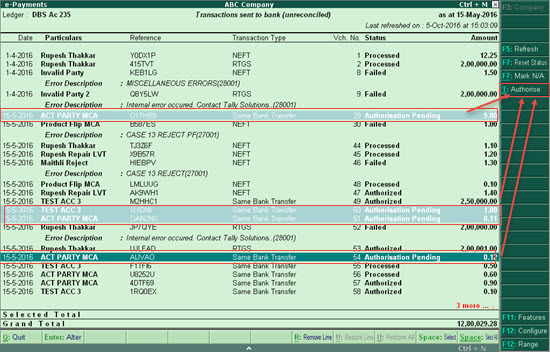 7. Log in to DBS portal and authorize the transactions for making payment to the party.