Viewing Bank Reconciliation Report
The Auto Bank Reconciliation option helps to view bank statements, import bank statements, and reconcile transactions.
To view, import and reconcile the banking transactions
1. Go to Gateway of Tally > Banking > Bank Reconciliation
2. Select the bank. The Bank Reconciliation screen appears as shown below: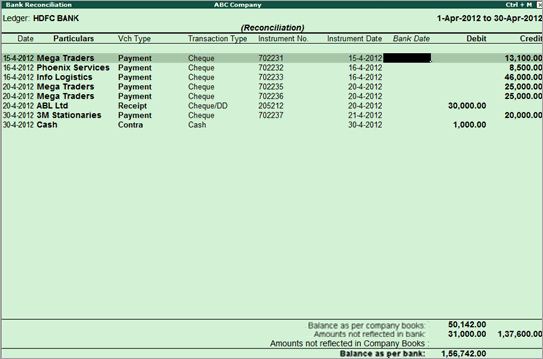 Note:
♦ Valid TSS and internet connectivity are required for performing auto reconciliation.
♦ The facility to import and view bank statements will be available only for banks enabled with auto reconciliation feature in bank ledger. click here for more details to enable auto bank reconciliation.
The following buttons are enabled only for the bank ledgers enabled with auto reconciliation option.
● B: Bank Statement and R: Reconcile Unlinked appear on the right side button bar
● D: Delete Unlinked button appears on the button bar above Info Panel.
B: Bank Statement: Click to view and import the bank statement for bank reconciliation.
R: Reconcile Unlinked: Click to reconcile unlinked transactions after the transactions are imported and reconciled and if there are any entries appearing under the section Amount not reflected in Company Books.
D: Delete Unlinked: Click to delete the unlinked vouchers.
See Also
Auto Reconciliation of Banking Transactions
Reconcile Unlinked Transactions
Reconcile All Unlinked Transactions
Re-importing the Bank Statement