Purchase Order Processing
When the order is placed with the suppliers for the supply of goods, the items, quantities, date of receipt, and so on, details are given with the Purchase Order Number. Later, when these goods are received, the Purchase Order is tracked for the Order Details either in the receipt note or in the purchase Invoice.
The Outstanding Purchase Order reports are available in Tally.ERP 9. It is possible to know the order position of any item in the Stock Summary. Separate Purchase Order Outstanding report and Purchase Order Summary report are also available.
A purchase order is placed by a business entity with a supplier for the delivery of certain goods at a given price and time. Purchase order processing has to be enabled in order to create a purchase order.
To enable purchase order processing
1. Go to Gateway of Tally > F11: Features > Inventory Features .
2. Set Enable purchase order processing? to Yes.
3. Press Ctrl+A to accept.
To create a purchase order
1. Go to Gateway of Tally > Inventory Vouchers > Ctrl+F2 > F4 : Purc. Order to view the Order Voucher Creation screen.
2. Enter the Party's A/c Name .
3. Enter the Order No .
4. Select the Name of Item from the List of Stock Items , or press Alt+C to create a new stock item.
5. Enter the Quantity of the item, as required.
6. Enter the Rate of the item. The Order Voucher Creation screen appears as shown below: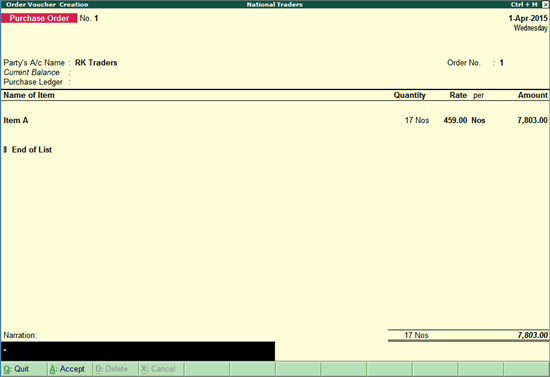 7. Press Ctrl+A to accept.
Now, you can send the purchase order for an item to your supplier.