Providing GST Details
You can specify all GST-related information relating to your business in the GST Details screen. This screen can be configured to enable further options which will allow you to enter your GST information in detail.
To specify GST details, enable the option Set/alter GST details? . You can manage GST details for goods/services at different levels.
If you have enabled GST classification at the company level, you can select it in the field Classification . Once you have selected a GST classification, the details specified get applied to stock item, stock group or ledger.
The GST Details screen at the stock item level appears as shown below: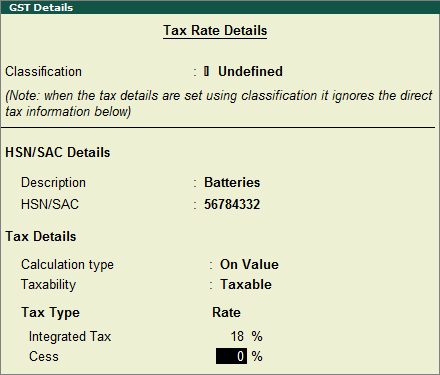 Note : The option Calculation type is available only at the stock item level. You can set the calculation type as On Value or On Item Rate , as required.
The F12 configuration options available at the stock item, stock group, and ledger levels, and the options enabled on setting them to Yes in the GST Details screen are shown below: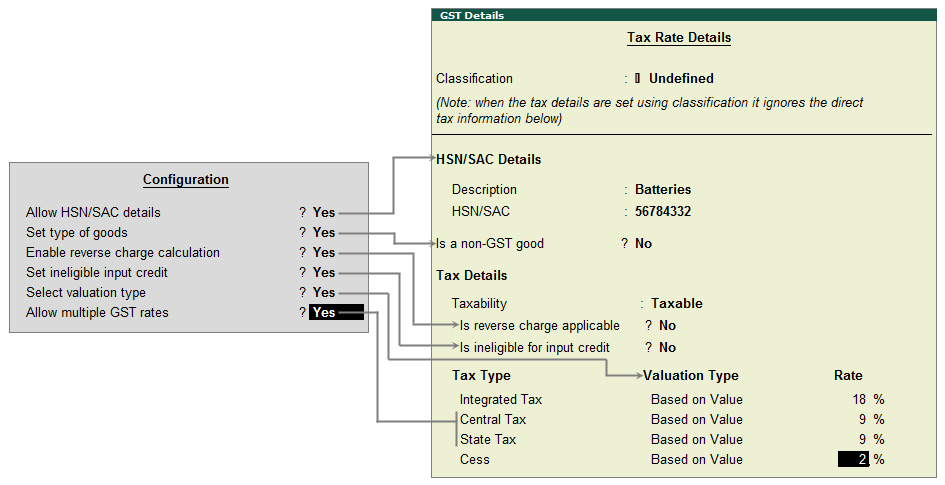 Valuation Type : Default is Based on Value .
You can enable the F12 configuration options as required to enable relevant options and provide the required details.
See also: