Document Summary Report for GST
We have provided the Document Summary report in which you can view the transaction count of sales, purchase from unregistered dealers, debit note, credit note, receipt voucher, payment voucher (including voucher marked for refund), and delivery note recorded for branch transfers.
Note: Vouchers which does not have GST details, will not be captured in Document summary .
To generate the Document Summary
1. Go to Gateway of Tally > Displays > Statutory Reports > GST > GSTR-1 .
2. Press Enter on Document summary - 13 .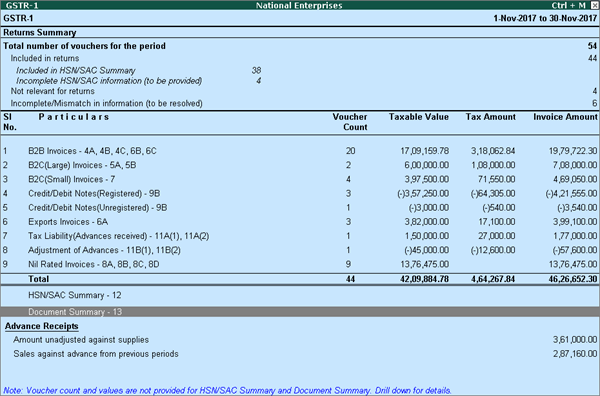 3. The Document Summary report appears, as shown below:

The offline returns tool does not have the provision to import Document Summary details. Hence Document Summary details need to be recorded manually on the GST portal.
The explanation of each column of the report is given below:
| | |
| --- | --- |
| Column | Description |
| Nature of Document | Displays the transaction count of voucher type used for each nature of documents recorded during the return period. |
| Serial No. From | Displays the first voucher number of the voucher type recorded for each nature of document during the return period. |
| Serial No. To | Displays the last voucher number of the voucher type recorded for each nature of document during the return period. |
| Total No. | Displays the total count of vouchers, including cancelled vouchers, recorded using the voucher types supported for each nature of document during the return period. |
| Cancelled | Displays the number of vouchers cancelled during the return period. |
| Nett Issued | Displays the number of vouchers as per each nature of document recorded during the return period. |