Recording Excise Sales with CST (Excise for Manufacturer)
In case your goods attract both excise and VAT/CST, both the tax can be levied while recording a transaction.
ABC Company sold Oval Eye Glasses model T1234 against Form C to Clear Opticals located in Gujarat. The details of the transaction are as shown below:
| | | |
| --- | --- | --- |
| Stock Item | Quantity | Rate |
| Oval Eyeglasses (T1234) | 300 nos. | Rs. 6500/ no. |
Basic excise duty of 12.5% is applicable on the sales transaction.
To record an excise sales transaction
1. Go to Gateway of Tally > Accounting Vouchers > F8: Sales .
2. Enter the reference number in Ref. field.
3. Select the Tax Unit . The Excise Book Name and the Rule 11 Serial No are displayed automatically.
4. Select the party ledger in Party's A/c Name option.
5. Set the option Is Against C Form? to Yes in Party Details screen. This option appears only when the state selected is other than Karnataka.
6. Select a common sales ledger in which the options Is VAT/CST Applicable? is set to Applicable , and Set/Alter VAT Details? is set to No .
7. Select the required stock item.
Note: If the option Is Against C Form? is set to Yes in Party Details screen, the tax gets calculated at 2% CST rate, irrespective of the tax rates defined in the inventory or accounting masters.
8. Select the excise duty ledger.
9. Select the common CST ledger.
10. Set the option Provide VAT Details? to Yes to view the Statutory Details screen.
The sales invoice appears as shown below: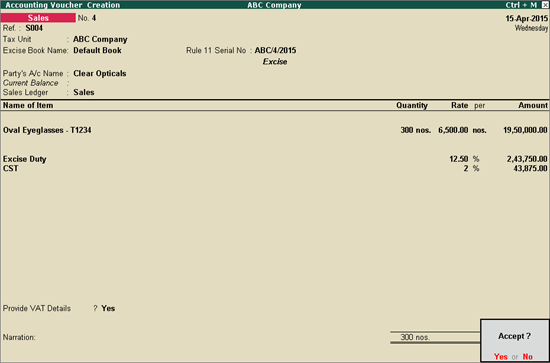 11. Press Enter to save.
Print the excise sales invoice to generate the rule 11 invoice.
To generate the Rule 11 invoice
1. Click P : Print from the excise sales invoice.
2. Press Enter in the Voucher Printing screen.