View Cancelled Vouchers
This report is a repository of all cancelled vouchers.
1. Go to Gateway of Tally > Display > Exception Reports > Cancelled Vouchers . By default, the List of Cancelled Vouchers screen displays the cancelled voucher on the current date.
2. To display the cancelled vouchers for a specific period, click F2 : Period .
3. Specify the To and From dates.
All the cancelled vouchers in the specified period will be displayed. The List of All Cancelled Vouchers report appears as shown below: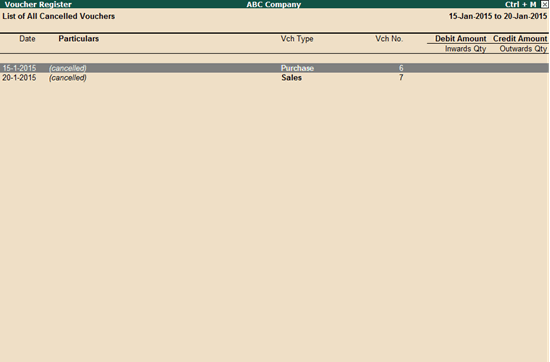 4. To display voucher narration in the List of Cancelled Vouchers report, click F12: Configure and s et the option Show Narrations Also to Yes .
5. To view the name of the user who has entered or altered the transaction, click F12: Configure .
6. Set the option Show Entered/ Altered by to Yes . This configuration will appear only if the option Use Tally Audit features is set to Yes in the Company Alteration screen.