Payment Advice Report (Payroll)
The Payment Advice report is used to generate Payment Advice / Bank Transfer letters to transfer Salary Amount from a specific bank account to the respective bank accounts of the employees based on the Salary Payment voucher. For more details refer to Salary Payment section.
1. Go to Gateway of Tally > Display > Payroll Reports > Statements of Payroll > Payment Advice .
2. Click Yes to display the Payment Advice Printing screen.
3. Enter the Payment Voucher date in the To and From fields.
4. Select Appropriate Employee Category and Employee/Group.
5. Select Appropriate Bank Ledger to which Salary Amount is Posted.
6. Set From and To date in the Date Range to Print field as per the Payroll Voucher period.
7. Set Employee Number to Yes to print the Employee's Number in the Payment Advice for each Employee.
8. Set Bank Name to Yes to print the Bank Name in the Payment Advice for each Employee.
9. Set Branch to Yes to print the Branch Name in the Payment Advice for each Employee.
10. Set IFS Code to yes to print the IFS Code of the Particular Branch of the Bank in the Payment Advice.
11. To print the Date of Birth of each Employee, set Date of Birth to Yes .
12. To print the E-Mail IDs of the employees, set Email ID to Yes .
13. A common remark can be defined for all the employees, to be printed in the Payment Advice. Enter it in the Remarks field.
14. Select the desired Sorting Method (from Bank Details , Employee Number or Default ).
15. Enter the required Date of Printing for Payment Advice, it is defaulted with the actual date of printing. The Print Configuration screen for Payment Advice appears as shown:
16. Accept to print the Payment Advice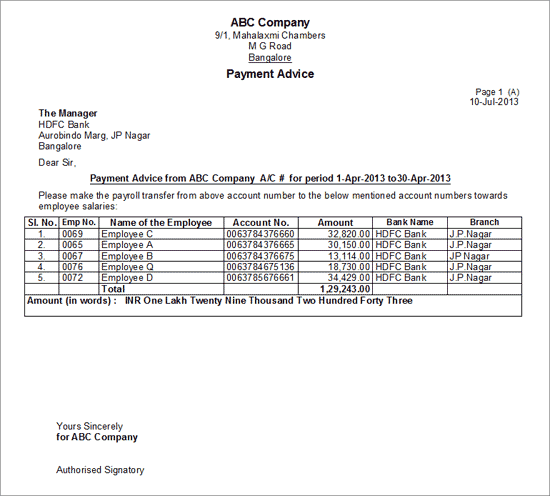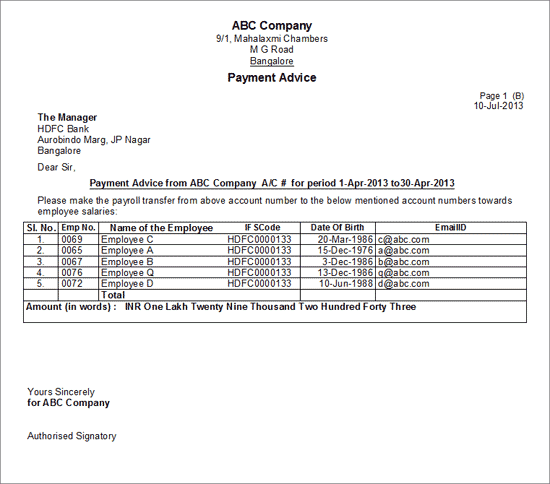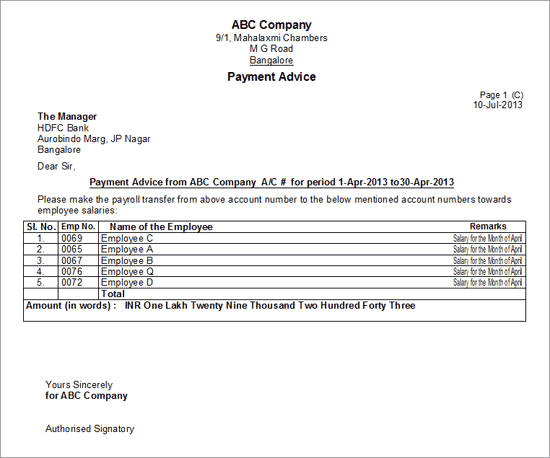 This is a default payment advice format. If you require changes specific to your bank's requirement, contact nearest Tally Partner.