Login to Control Centre
The Control Centre works as an interface between the user and Tally.ERP 9 installed at different s ites. It enables the user to centrally configure and administer s ite or user belonging to an account.
1. Go to Company Info menu or Gateway of Tally .
2. Click Ctrl + K: Control Centre .

The Login As Remote Tally.NET User screen appears.
3. Enter the User ID in Your E-Mail ID field.
4. Enter the password emailed in Your Tally.NET Password field.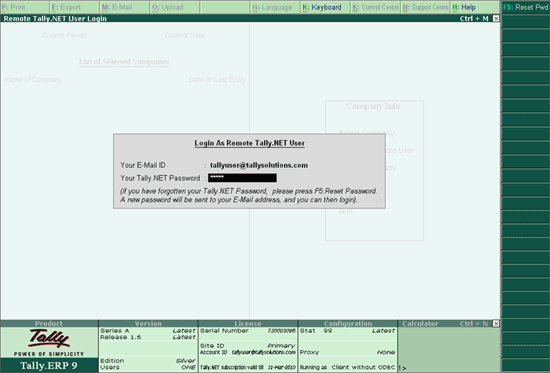 Based on the authentication received from Tally.NET Server you can access the Control Centre .
The Select Account screen appears as shown:

Note: The Select Account screen appears for a multi-site account or when your ID (user name) is linked to multiple accounts
5. Select the required account name from List of Accounts displayed.
6. Press Enter .
Note: Depending on the requirement you can enter the Account/ Site Administrator's ID to administer an Account/ Site respectively. You can also provide to other User IDs access to Support Centre and access other areas of the Control Centre based on the permissions assigned.
In case you have forgotten the Password, provide the Account ID/Site E-mail ID/ User ID in Your E-Mail ID field and press F5 . The new password will be mailed to the respective E-Mail ID .
To reset the password click F5: Reset Password .
If you are logging into Control Centre , Support Centre , Remote User , Surrender License and Update License for the first time after creating the account, you will be redirected to the Change Password screen. To know more on how to change the password, refer to Changing Password .