Change Tally.NET Password
You can change your Tally.NET password at your convenience. As per the best practices available, it is recommended that the password should be changed frequently in order to avoid unauthorised access to business information.
Tally.ERP 9 prompts the user to change the password on attempting to open any of the following screens:
● Remote Tally.NET User
● Support Centre
● Control Centre
● Surrender License
● Update License
Note: It is recommended to change the password before performing any other operations.
To change Tally.NET password
1. Go to the Control Centre .
2. C lick P : Change Password.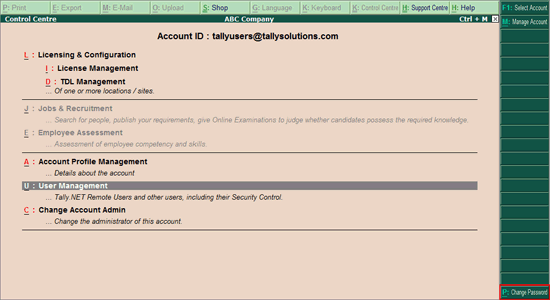 The Change Password screen appears with the Username .
3. Enter the current password in Old password field.
4. Enter the new password in New Password field.
5. Repeat the new password in Repeat field for the purpose of confirmation. The Password Strength indicator displays the strength of the new password.
Note: To understand the conditions that determine a Password's strength, click Password Strength Indicator .
6. Press Ctrl+A to accept the new password.