Identifying Related Parties (International)
Those Ledgers which are marked by the user as Related Party will only appear in the Related Party Transactions report.
1. Go to Gateway of Tally > Analysis & Verification > Verify > Related Party Transactions .
2. Click on Ctrl+F9: Master Config or press Ctrl+F9 .
3. Select Related Party and press Enter .
4. Select the required Ledgers using Spacebar in the Related Party Configuration screen.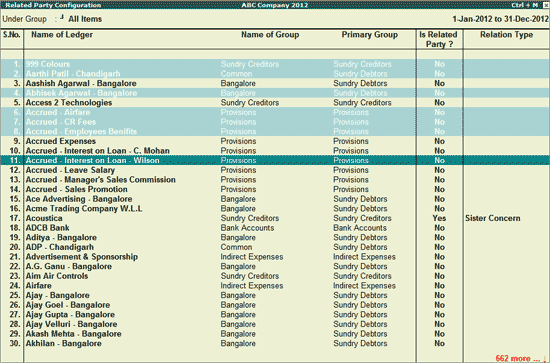 5. Click on F5 : Update or press F5 to view Related Party Details screen to mark the selected Ledger as Related Parties.
6. In Related Party Details screen.
7. In Is Related Party field select Yes .
8. In Relation Type field specify the relation type.

9. Press Enter to save the Related Party Configurations .
Note: Follow the same steps to unmark a Party which is wrongly identified as Related Party.
10. Press Esc to view the Related Party Transactions report.
To view the Working Paper during analysis, click on Ctrl+W : Wkg Paper or press Ctrl+W . The details displayed in Working Paper will be relevant to report from where it is triggered. This report displays the details of Configuration of Periodic Ledgers.