Record a POS Invoice
You can record a POS transaction using the voucher class created for POS invoice voucher type.
1. Go to Gateway of Tally > Accounting Vouchers > F8: Sales > POS Invoice > POS Class .
2. Select the Godown , as required.
3. Select the Party's A/c Name , as required.
4. Select the Sales Ledger , as required.
5. Select the Name of Item or create a new stock item.
6. Set the Rate of the item , as required.
7. Select GST ledgers from the list of Ledger Accounts . The Accounting Voucher screen appears as shown below: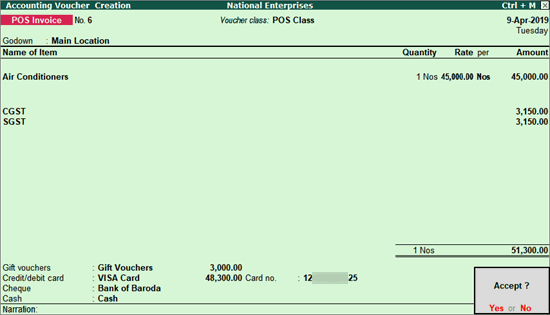 8. Press Enter to save.
Note: POS invoices can be recorded with different actual and billed quantities by enabling the option Use separate actual and billed quantities in F11 (Features) > F2 (Inventory) .