Enable Tally Audit Features
You have to enable the Security Controls, Tally Audit feature while creating a company. You can use the administrator login id or create a user with Tally Audit access by selecting Audit Listings in respective security levels.
To enable Tally Audit
1. Go to Gateway of Tally > F3: Company Info > Alter
2. In the Company Alteration screen set Use Tally Audit Features to Yes .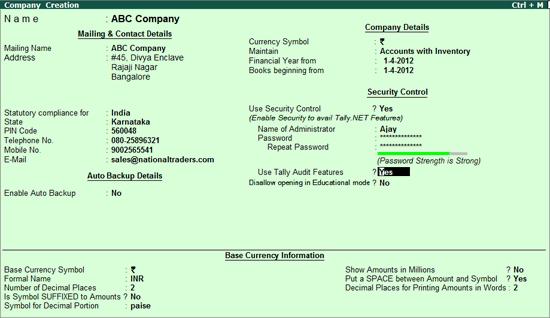 Note: The user should enable Security Controls, create an auditors login id and password before enabling the Tally Audit or use the administrator's login id for the purpose of Tally Audit.
The auditor / administrator can display or print the Tally Audit Listing and verify the transactions made. In case the auditor /administrator is satisfied with the authenticity of the transaction or the changes made, he will accept all or selective transactions by clicking the relevant button. Once the transactions are accepted, they are removed from the audit listing and will not be displayed again.