Imports (Kenya)
Under VAT Act, import of certain items are exempted from payment of VAT.
For example, import of machinery for industrialisation, mechanisation of farming, Nuclear reactors, boilers etc. and imports by construction sector etc. are exempt from payment of VAT.
To record a works contract transaction
1. Go to Gateway of Tally > Accounting Vouchers > F9: Purchase .
2. Enter Supplier Invoice No. and Date .
3. Select the Party's A/c Name .
4. Select the purchase ledger with Imports as the Nature of transaction .
Note: If purchase common ledger is being used:
♦ Click F12: Configure in the invoice and set the option Allow modification of Tax Details for VAT? to Yes .
♦ Select Imports in the VAT Classification Details screen displayed on selecting the common purchase ledger
5. Select the stock item, enter the Quantity .
6. Enter the Rate with foreign currency symbol.
o Enter the Rate of Exchange in the Forex Rate of Exchange screen. The amount is automatically displayed in the Amount field.

o Press Enter .
The purchase invoice appears as shown below: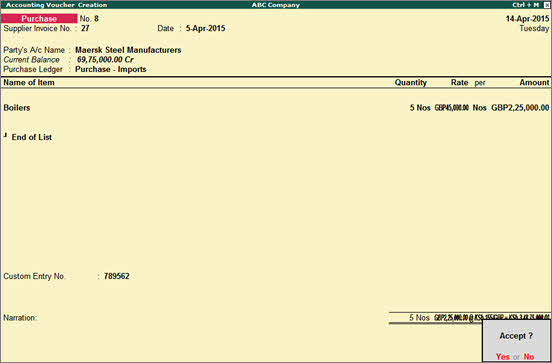 7. Press Enter to accept the invoice.