Creating the Sales Voucher on Export of Goods (Kenya)
Under VAT Act, export of taxable goods and services are exempted from payment of VAT.
To create the Sales voucher on e xport of goods
1. Go to Gateway of Tally > Accounting Vouchers > F8: Sales .
2. Enter the reference number in the Ref . field.
3. Select the Party's A/c Name from the List of Ledger Accounts .
4. Select the s ales ledger with Exports as Nature of transaction .
5. Select the Name of Item from the List of Items. Enter the Quantity and Rate .
6. Enter the Rate of Exchange i n the Forex Rate of Exchange screen. The amount is automatically displayed in the Amount field.
7. Enable Provide VAT Details? .
o Enter Custom Entry No. , Port of Exit and Destination Country details in the Statutory Details screen.

o Press Enter to return to invoice screen.
8. Press Enter .
The sales invoice for export appears as shown below: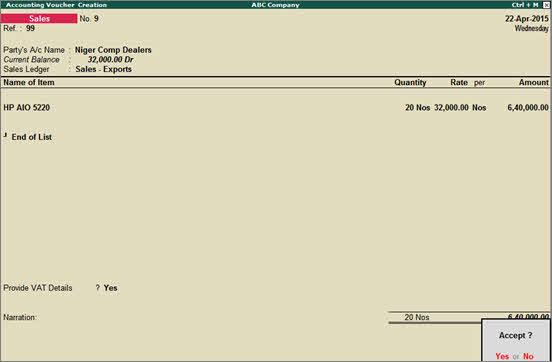 9. Press Enter to accept and save.