27Q TDS Payment Details
This section contains details of all TDS payment vouchers of the current period. It displays all the payment entries recorded for interest, penalty, late fee, and so on. These other payment entries for interest, penalty, and late fee etc will be displayed under Other Payments. Payments made to party, petty expenses, or any statutory payments other than that of TDS are not displayed here.
To view the deduction voucher for each of the nature of payments
1. Go to Gateway of Tally > Display > Statutory Reports > TDS Reports > Form 27Q .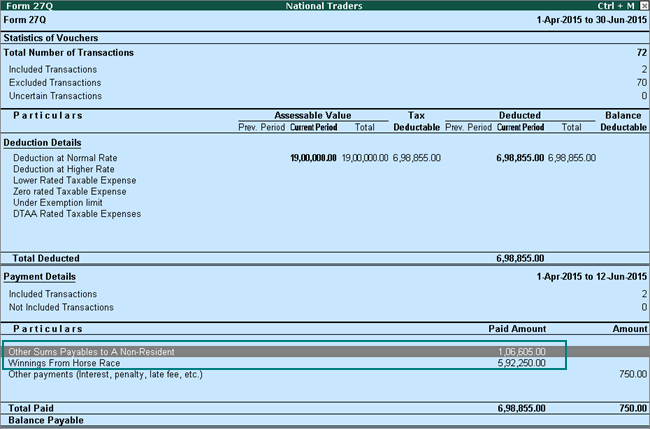 2. Select the nature of payment under Particulars and press Enter , to view the Payment Voucher screen.

3. Select the required voucher and press Enter to view all the deduction vouchers recorded for the selected party.

To view Other payments such as Interest, Penalty, late fee etc.
1. Select Other payments (Interest, penalty, late fee, etc.) under Particulars in Payment Details .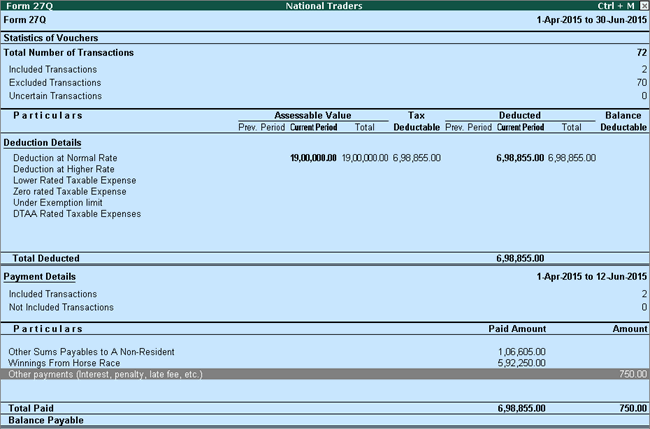 2. Press Enter . The Payment Voucher report for other payments appears as shown below:

To export the payment voucher
1. Press Alt+E to view the Exporting screen.
2. Select the required Format .
3. Enter the required Output File Name .
4. Press Enter to export the vouchers.
A brief explanation of each field in the exported voucher report is given below:

| | |
| --- | --- |
| Field Name | Description |
| Deduction Details for challan No.: | Displays the challan number used for making payments to the government. |
| Date of Payment /Credit | Displays the date when TDS booking or advance payment was made (whichever is earlier). |
| Party Name | Displays the name of the deductee to which TDS booking or advance payment entry was made. |
| Deductee Type | Displays the type of deductee specified at the TDS Nature of Payment screen. |
| PAN | Displays the PAN number of the deductee specified at the TDS Nature of Payment screen. |
| Rate | Displays the rate of TDS specified at the TDS Nature of Payment screen. |
| Payment Code | Displays the Section Code specified at the TDS Nature of Payment screen. |
| Challan Date | Displays the challan date specified at the Challan Reconciliation screen. |
| Assessable Value | Displays the assessable value of the TDS for which booking or advanced payment entry was made. |
| Income Tax | Displays the income tax amount which was calculated at the TDS booking or advanced payment entry journal. |
| Surcharge | Displays the amount of surcharge calculated for the TDS booking or advanced payment entry, as per the rate specified at TDS Surcharge Details screen in F3: Statutory & Taxation features screen. |
| Education Cess | Displays the amount of education cess for the TDS booking or advanced payment entry, as per the rate specified at TDS Surcharge Details screen in F3: Statutory & Taxation features screen. |
| Secondary Education Cess | Displays the amount of secondary education cess for the TDS booking or advanced payment entry, as per the rate specified at TDS Surcharge Details screen  in F3: Statutory & Taxation features screen. |
| Paid Amount | Displays the total amount paid for TDS booking or advance payment made. This is the consolidated amount of income tax, surcharge, education cess, and secondary education cess in the TDS booking or advanced payment entry voucher. |