Accounting for TDS on Expenses
You can create an accounting voucher for your business expenses, along with the applicable TDS.
Scenario: On 30-4-2015, ABC Company paid MAR Tech Park ₹ 5,00,000 as rent.
To create a journal voucher
1. Go to Gateway of Tally > Accounting Voucher > F7: Journal.
2. Click F2: Date to change the date to 30-4-2015 .
3. Debit the Rent expense ledger.
4. Enter 500000 in the amount field.
5. Credit MAR Tech Park . The amount after TDS deduction will appear in the Amount field automatically.
6. Press Enter .
7. Enter the Bill-wise Details , as required.
8. Press Enter .
9. Credit the TDS tax ledger. The TDS amount will automatically filled in the Amount field.
10. Press Enter .
11. Enter Narration , if required.
The Journal voucher appears as shown below: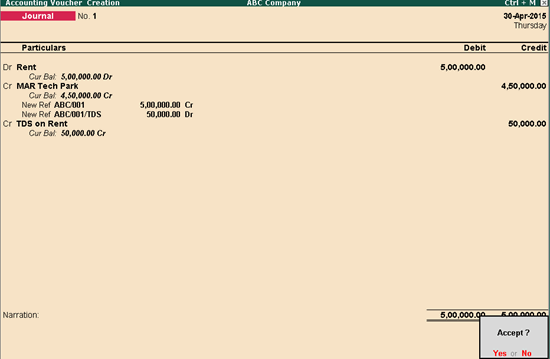 12. Press Ctrl+A to save the voucher.