Recording NPS Payments (Payroll)
Payments towards both employer's NPS contributions and employees' NPS deductions can be recorded using a single payment voucher in Tally.ERP 9.
To process NPS payment
1. Go to Gateway of Tally > Accounting Vouchers > F5: Payment .
2. Press F2 to change the Voucher Date .
3. Press A : Payroll Auto Fill .
4. Select the NPS Payment in Process for field.
5. Enter the From and To dates.
6. Enter the Voucher Date .
7. Select the appropriate Employee Category .
8. Select the Employee/Group from the List of Employees/Group .
9. Select the appropriate Bank / Cash Ledger from the List of Ledger Accounts .
10. Select the appropriate Payroll Ledger from the List of Ledger Accounts .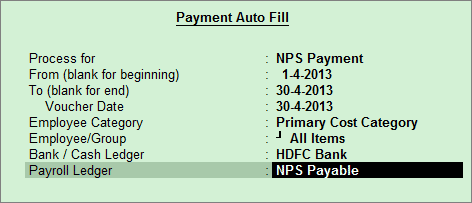 11. Press Enter to show the NPS Contribution, and select End of List .
12. Select Yes in Provide Details field.
13. Enter the Cheque/DD No. , Cheque/DD Date , Challan Date , Bank & Branch Code , as required, in the Payment Details screen.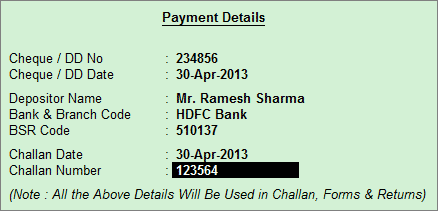 14. Press Enter , and specify Narration , if any.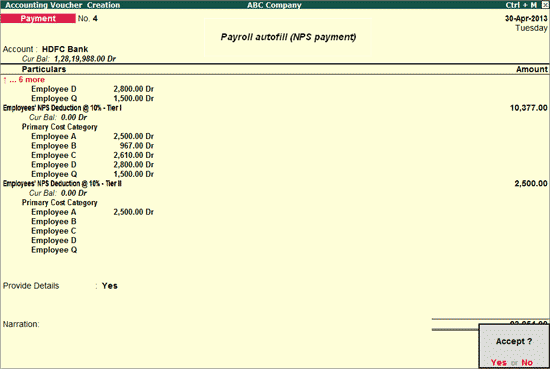 15. Press Enter to save.