Ledger Outstandings - Receivables (International)
The Ledger Outstandings report displays the details of the Bill wise and On Account transactions for which amount is pending from the selected party.
To view the Ledger Outstandings report
1. Go to Gateway of Tally > Analysis & Verification > Data Analysis > Pending Documents > Receivables .
o Select the required Party and press Enter .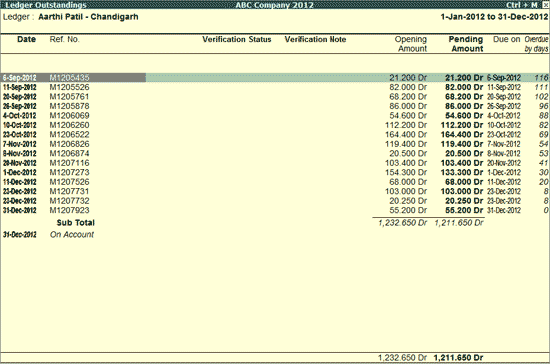 The Ledger Outstandings report displays details of the Transaction details such as Date, Ref No./On Account, Opening Amount, Pending Amount, Due On and Overdue by days. The Voucher details will also be visible in the detailed report.
Button options in Ledger Outstandings report
F1 : Detailed
Click F1 : Detailed button or press Alt+F1 to view the above report in detailed mode. The detailed mode will also display the Voucher details such as Voucher Date, Type of Vouchers, Voucher Nos. and Amount of each Voucher.
F2: Period
Click F2 : Period or press F2 to change the selected Period.
F4: Ledger
Click F4 : Period or press F4 change the party to view the Outstanding details for a different Party.
F6: Age wise
● Click F6 : Age wise or press F6 to specify age wise Ledger Outstandings report.
● Specify the one of the two ageing methods from:
o Ageing by Bill Date
o Ageing by Due Date
The age wise Ledger Outstandings report is displayed as shown: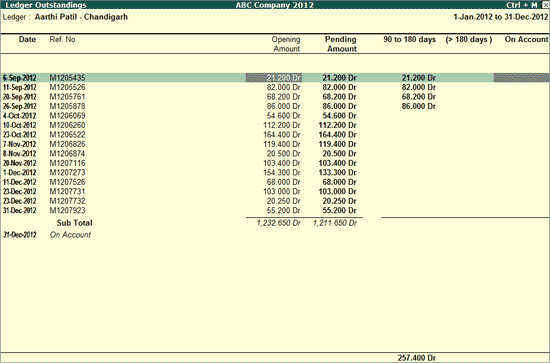 F8: Other Rep
Click F8 : Other Rep or press F8 to related reports like Bill-wise Details , Interest Calculations , Ledger Analysis , and so on.
F9: Inv Reports
Click F9 : Inv Reports or press F9 to navigate to the default Inventory Reports.
F9 : Verify
Click F9 : Verify or press Alt+F9 to verify the selected Vouchers. For more details on verification refer Verification Status .
Note : The F9 : Verify button will be highlighted when one or more Vouchers is/are selected for verification using Spacebar .
F10: Acc Reports
Click F10 : Acc Reports or press F10 to navigate to the default Accounting Reports.
F10: Analysis Reports
Click F10 : Analysis Reports or press Alt+F10 to navigate to the other Analysis Reports.
F12: Configure
Click F12 : Configure or press F12 to change the default display for the above report. For details on the F12 options refer to Bills Outstandings report.
F12 : Range
Click F12 : Range or press Alt+F12 to use the Range Filter option to search the specific Vouchers from the list of Ledger Vouchers displayed.