Activating GST for Your Company
To use Tally.ERP 9 for GST compliance, you need to activate the GST feature. Once activated, GST-related features are available in ledgers, stock items, and transactions, and GST returns can be generated.
To activate GST
1. Open the company for which you need to activate GST.
2. Press F11 > F3.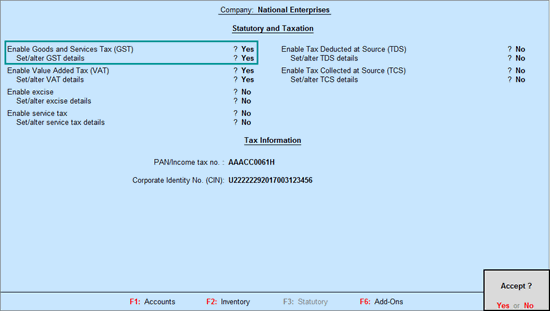 3. Enable Goods and Services Tax (GST) - Yes.
4. Set/alter GST details - Yes.

State: Displays the state you have selected for your company. Helps in identifying local and interstate transactions. If you change the state, it will be updated in the company details.
5. Specify the GSTIN/UIN for the business. This can be printed in the invoices as required. You can specify this later.
6. Specify Applicable from date. GST will be applicable for your transactions from this date onwards.
You can record transactions using the ledgers with GST details, and print invoices with GSTIN.
If required, deactivate other taxes like VAT, as applicable. For this, open the corresponding tax details screen and specify the Deactivate from date.
See also: