VAT Reports (Haryana)
The VAT Reports menu comprises statutory and other reports provided for VAT and CST. You can drill down further from these menu items to view the required reports for the selected period.
To view the VAT reports for Haryana
● Go to Gateway of Tally > Display > Statutory Reports > VAT.
The VAT Reports screen appears as shown below: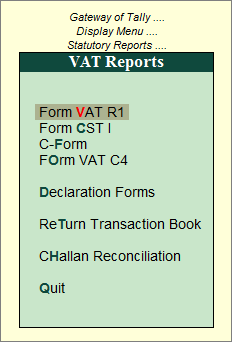 The VAT Reports menu consists of:
● C-Form