Ledger Break-up of a Cost Centre
This provides you with another view of a cost centre report. It enables you to analyse the distribution of a ledger account across different cost centres.
If you want to know the Conveyance Expenses incurred by different cost centres, you need to view the Ledger wise break up of cost centres.
1. Go to Gateway of Tally > Display > Statement of Accounts > Cost Centres > Ledger Break-up
2. Select a ledger account, say for example, conveyance. The Ledger Break-up screen is displayed as shown below: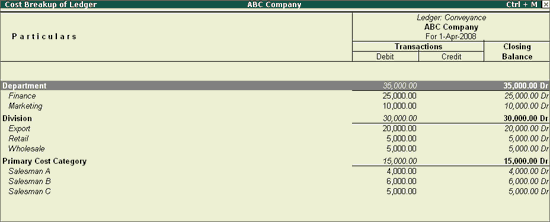 The total Conveyance Expenses allocated to different Cost Centres under different Cost Categories are listed. If you have only one category, it lists out as per this category.
Use New Column to bring up another ledger account, say, Professional Services. You will be able to judge their relative performance or even compare the data with that of another company.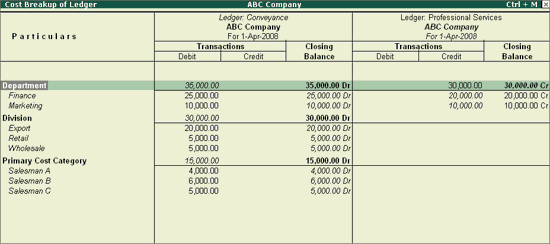 Note:  Use F12: Configure option and enable the required options to display the report as per your requirement.