Configuring Payroll
You can use the Payroll Configuration screen to configure some basic aspects of Payroll.
To configure Payroll
1. Go to Gateway of Tally > F12: Configure > Payroll Configuration.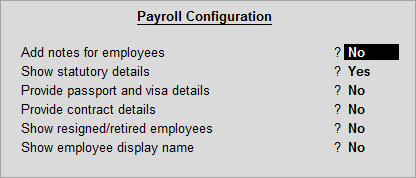 2. Set the option Add notes for employees to Yes to enter any additional information about the employee in the Employee Creation/Alteration screen.
3. Set the option Show statutory details (for India/ SAARC companies only) to Yes to enter the PF, ESI, NPS and Employee PAN details in the Employee Creation screen, and print the same information in the employee pay slip.
Note: For International Companies, the option Show Statutory Details will allow to capture only the Employee's Income Tax Number in the Employee Creation screen.
4. Set the options Provide passport and visa details and Provide contract details to Yes to capture and display the following information in the Expat Reports:
● The employee's Passport Number, Passport Expiry date, Visa Number, and Visa Expiry date,
● The employee's Contract Start and Expiry dates in the Employee Master..
5. Set the option Show resigned/retired employees to No, to avoid displaying the names of resigned employees in the attendance and payroll vouchers.
6. Set the option Show employee display name to Yes, if the payroll reports need to include a different name for the employee, while printing.
Note: This option is useful when the company has multiple employees who have the same name.
You can configure additional printing preferences using the Payroll Print Configuration screen.